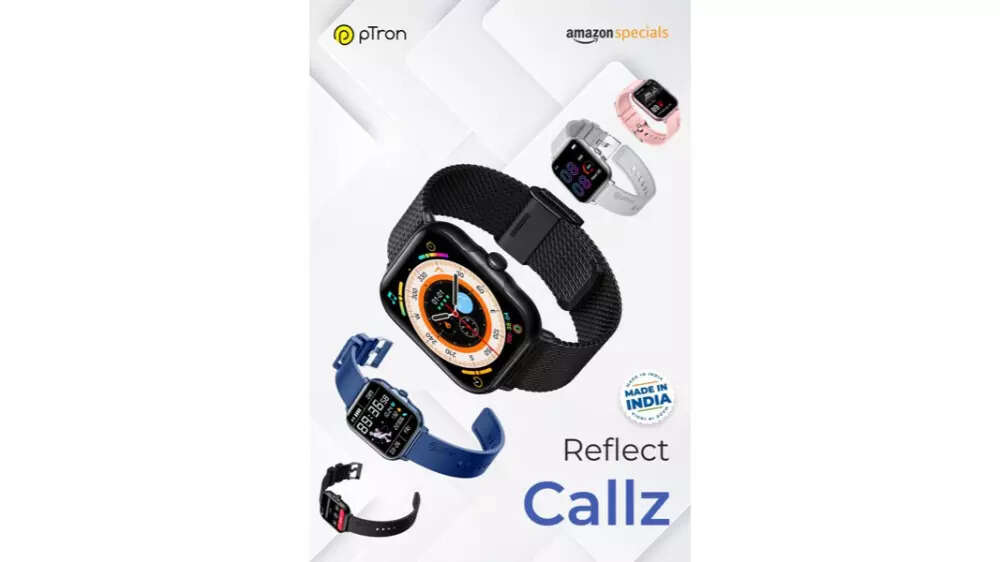 Domestic audio and wearables accessories brand, Ptron, has expanded its product portfolio in the country with the launch of a new smartwatch. The latest Reflect Callz smartwatch has an improved design and includes multiple features. This includes — built-in games and a 1.85-inch HD touch display. The smartwatch comes with metallic and silicon straps.
Ptron Reflect Callz
smartwatch: Price and availability
Ptron is offering the latest smartwatch at a special launch price of Rs 899. The Reflect Callz smartwatch will be available via the e-commerce platform Amazon. The company is offering a metallic and a silicon strap variant for the watch which is available in three colours — Black, Silver and Gold.
Ptron Reflect Callz smartwatch: Key specs
The smartwatch sports a 1.85-inch HD display that ensures optimal visibility in both indoor and outdoor situations. The device can also act as the user's health companion, fitness tracker, and entertainment hub.
The smartwatch comes with a clean interface that's easy to use. The watch also supports unique features like multi-sports mode with up to 5 days of battery life and up to an 15 days on standby. The Reflect Callz features multiple trackers which include a Heart Rate Monitor (HRM), Sleep tracker, Daily activity tracker, Blood oxygen saturation (SP02 monitor), and guided breathing exercises. The watch can also measure the user's stress control which enables them to monitor and improve their wellness at regular intervals.
Equipped with Bluetooth 5.2, Reflect Callz offers calling functionality with the smartwatch. The watch also supports other functions like incoming call alerts, text message alerts, and social media alerts. Users can also save their favourite contacts (up to 8). Additionally, the watch also offers other functions like music control and camera control via Bluetooth. This helps users to get a seamless experience.
The watch features a soft silicone band that comes with a fashionable look. With an IP68 rating, it can withstand dust, dirt, sweat and even splashes of water. This makes the smartwatch a perfect companion for their active workout sessions and daily life.
Reflect Callz also comes with built-in games that can offer on-the-go entertainment. These features make the Reflect Callz a standout choice amongst otherf wearables.
About Author