Fans' love is prompting the
CSK
talisman to rethink his retirement plans
CHENNAI: Was
MS Dhoni
doing a Leo Messi there? The little genius had announced that he would retire from international football after the 2022 World Cup, only to decide that he would stay back to enjoy the beautiful afterglow of a magical triumph. 07:23
CSK – The 'Kings' of consistency
Dhoni, too, is probably thinking on similar lines, savouring the adulation of another title triumph and thinking of sticking around for "one more IPL".
"Circumstantially, it's the best time to announce retirement. The easy thing for me is to say is thank you and retire. But the amount of love I have received from CSK fans, it would be a gift for them to (see me) play one more season," said Dhoni late on Monday night. His words were the cause of a second bout of jubilation for CSK supporters who were still soaking in their moment of glory.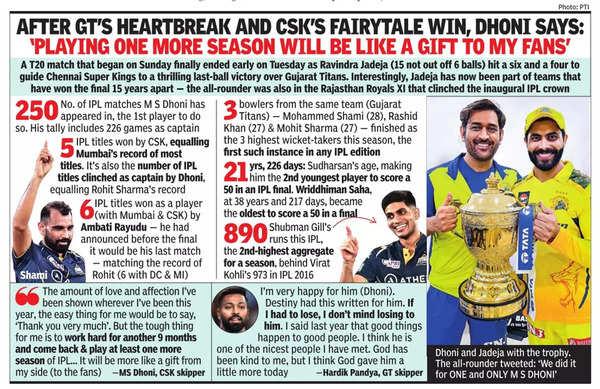 Dhoni knows his knee is not in shape any more to take the rigours of top-flight cricket. He mentioned that, too, saying that he will have to assess where his body is eight months from now. But just like Messi, it is the love of the fans that is pushing the CSK captain to stretch his horizon just a little more.
Now that they are champions, CSK will play the first game of the 2024 edition at Chepauk and the final, too, will be staged at home. If you're a Dhoni fan, you're probably already having Goosebumps visualizing the moment.
1/16
IPL 2023 Final: Chennai Super Kings beat Gujarat Titans to win fifth title
But then, who is not a Dhoni fan? Such is the love for the man. Even Gujarat Titans fans on Monday turned up in CSK colours. And it happened across the country – from Kolkata to Delhi to Bengaluru – and every match felt like a home game for the five-time champions.
For 25 years, we saw Sachin Tendulkar generating a similar passion across India. But the Little Master always had 'India' inscribed on him, while the Dhoni magic is unique because it has transcended club rivalries. 01:48
Chennai Super Kings beat Gujarat Titans to win fifth IPL title
It's beyond belief that a Real Madrid supporter would turn up for a Clasico donning a Barcelona shirt just because he loves Messi, but that's what Dhoni has been able to do.
It's Dhoni's humble roots, his image of a small-town hero, his success-against-the odds story, that have made him the icon that he is today. Add to that his ability to strike a chord with the Tamil-speaking population, who haven't had a home-grown sports icon of his stature, and that might explain his pan-Indian appeal.
Dhoni doesn't need a busy social media profile to stay relevant. It's just his single-minded determination to make his team the best in the business that makes millions fall in love with him, over and over again.
But does such adulation cloud the thoughts of someone as level-headed as Dhoni? On Monday night, with the team needing 22 off 15 balls, Dhoni decided to promote himself ahead of players like Ravindra Jadeja and Moeen Ali.
Probably, for once, he, too wanted to revisit that 2011 World Cup final moment – a victory with a six – that made a generation of Indians his ardent followers.
Competitive sport, as cruel as it is, reminded Dhoni that that train may have passed as he got out for a first-ball duck. That could have triggered a collapse had Ravindra Jadeja not intervened just when it mattered.
Once the victory was achieved, no one bothered about the duck. The CSK fans preferred to believe that it was Dhoni's magnificent stumping of Shubman Gill or his handling of resources that mattered more than a "minor blip" with the bat.
But come next year, MSD, as loved as he is, will be judged only by the performances of IPL 17. Dhoni knows that, just as he understands his own body better than anyone else. While the genius takes his time to decide, for us, it's time to wait, if there will truly be a season 2 of MSD's 'last dance'.

About Author